The BetMGM Borgata online qualifier events provide an incredible opportunity for New Jersey poker enthusiasts to secure seats at the highly anticipated Aria Poker Championship 2023. As Luke Staudenmaier, director of poker for BetMGM, said in a press release , "It's great to bring BetMGM players back to Las Vegas during one of poker's most exciting times of the year."
With these exclusive online qualifiers, you can experience the thrill of competing against top players and showcase your skills on poker's grandest stage.
BetMGM Borgata Online Qualifier Events for Aria Las Vegas Tournament
New Jersey players can now register online for the Aria Las Vegas poker tournaments through the BetMGM Borgata platforms. To embark on your journey toward the Aria Poker Championship 2023, you only need an account with BetMGM Poker NJ. The registration process is quick and straightforward. Visit the official BetMGM Poker NJ website and follow the easy steps to create your account. Once you have successfully registered, a world of poker games and exclusive promotions will be at your fingertips.
The next step is to explore the selection of BetMGM Borgata online qualifier events specifically designed for the Aria Poker Championship. These events serve as your pathway to the championship in Las Vegas, where you'll have the opportunity to compete for significant prize pools and gain recognition among the poker elite.
Details on How to Get the $6,500 BetMGM Poker Package
Ready to score the $6,500 BetMGM poker NJ package? Here's how you can seize this incredible opportunity. Simply log in to your BetMGM casino account in NJ and register for the qualifier tournaments using cash buy-ins or Tournament Dollars. It's that easy! To be eligible, you must be 21 years of age or older and be located in New Jersey.

For players who win the package, it's a complete poker extravaganza. You'll receive a $3,500 entry to the $2 million BetMGM poker championship, held at Aria Resort and Casino in Las Vegas between June 7 and 13. And that's not all! The package also includes an $800 Mystery Bounty tournament entry on June 8, a six-night hotel stay at the luxurious Aria, a bag full of exclusive BetMGM goodies, and even travel expenses. It's a once-in-a-lifetime experience that poker enthusiasts will want to experience.
In the words of Sean McCormack, Director of Poker Strategy at MGM Resorts, "Aria has doubled the guarantee from last year to $2 million, giving the competitors the chance to win one of our industry's top prize pools." So, gear up, get your game face on, and join the action-packed BetMGM Borgata online qualifier events for your shot at the $6,500 BetMGM Poker Package and a thrilling journey to the Aria BetMGM poker championship.
Online Weekly Qualifier Events at BetMGM Poker NJ
Borgata and BetMGM offer daily satellites leading up to their Sunday online $600 qualifier events, providing New Jersey players a direct path to Aria Poker Championship packages. Will O'Connor, a BetMGM Poker representative, expressed his enthusiasm regarding this opportunity, stating, "BetMGM is excited to offer players online with a live experience in Las Vegas this summer. It allows poker players a chance to get into the Aria Championship for as little as $2."
These highly anticipated $600 qualifiers take place every Sunday in May, with the following dates and guarantees:
Sunday, May 21: 5 Packages GTD
Sunday, May 28: 10 Packages GTD
It's important to note that the Aria poker championship packages are non-negotiable, non-refundable, and non-transferable. Unused Aria lodging will not be credited, while travel expenses ($500) will be directly transferred to the player's account.
Aria Las Vegas Poker Tournaments Online Qualifier Events at Borgata NJ
It's no secret that all Borgata poker events have been unforgettable so far. Now it's time to get ready for the action-packed Aria Las Vegas Poker Tournaments with the exclusive Borgata online casino NJ events in New Jersey. Through this program, you can secure an entry into this prestigious Las Vegas tournament and compete for exciting prizes. Here's a breakdown of the upcoming qualifier events you can experience by opening a Borgata casino account:
New Jersey Online Qualifier Events for Aria Las Vegas Poker Tournament 2023
Monday, May 22: 6 p.m., $50 + $10 (1 in 5) – Win entry to both step events for the week (Two Shot Turbo Step Qualifier)
Tuesday, May 23: 3 p.m., $70 + $20 (1 in 5) – Win entry to Wednesday's event
Wednesday, May 24: 6 p.m., $300 + $50 (1 in 20) – Win a $6,000 Vegas Package! (Five packages guaranteed)
Thursday, May 25: 3 p.m., $135 + $25 (1 in 5) – Win entry to Friday's event
Friday, May 26: 6 p.m., $600 + $60 (1 in 10) – Win a $6,000 Vegas Package! (Ten packages guaranteed)
Aria Poker Tournament Schedule 2023
The Aria Poker tournament schedule 2023 presents an exciting array of live poker events. The schedule includes tournaments with varying buy-ins to accommodate players with different budgets and preferences. From affordable options to high-stakes events, there is a tournament suitable for everyone. See the full list of events below!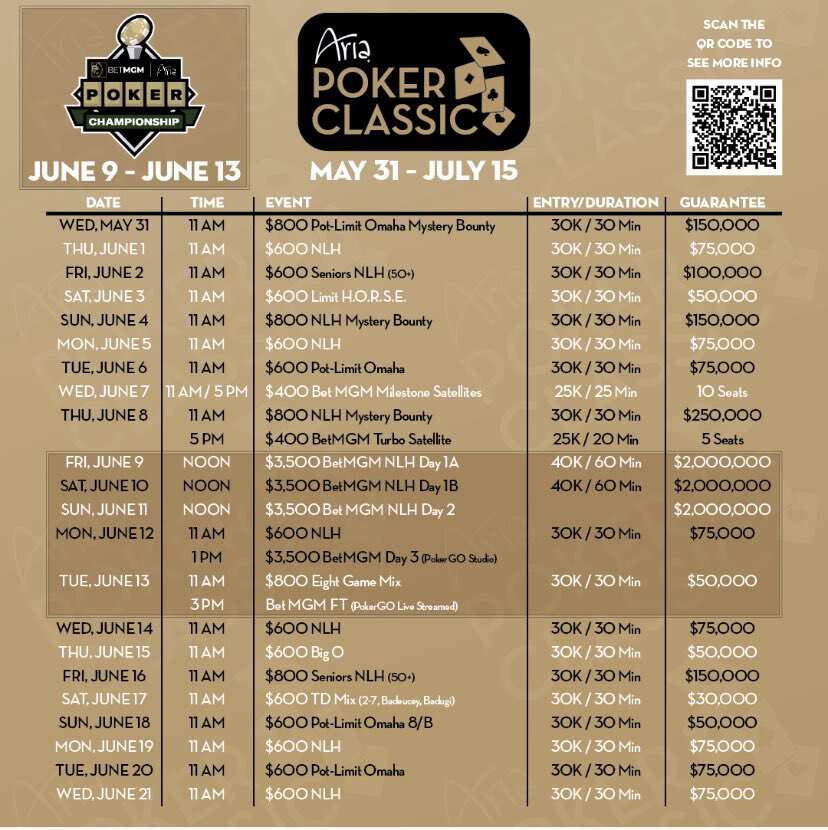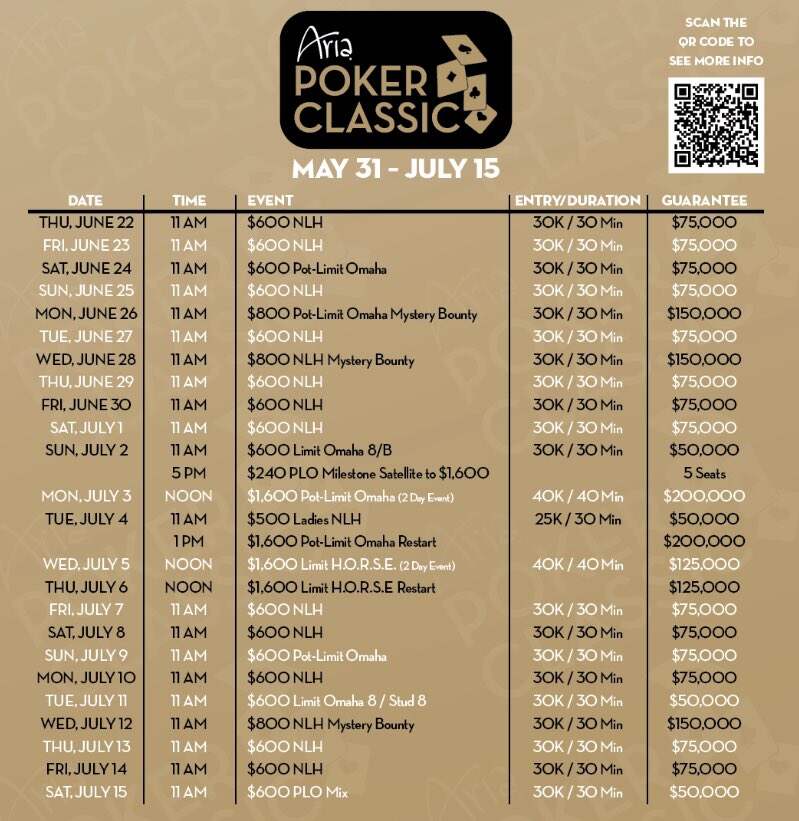 Players can also expect a diverse range of tournament formats. These include popular variants such as No-Limit Hold'em, Pot-Limit Omaha, and more. Each format brings its own unique set of poker strategies and challenges, providing an exciting and dynamic experience.
Moreover, the prize pools listed in the Aria Poker tournament schedule 2023 are highly attractive, with massive amounts up for grabs. The exact prize pools may vary depending on the specific tournament, as listed above.
BetMGM Poker Championship 2022 – Brief Recap
The 2023 BetMGM Borgata online qualifier events call for a brief recap of last year's . In the inaugural BetMGM Poker Championship 2022, players had the opportunity to win seats in the highly anticipated tournament. Among them was Benji Felson, a New Jersey resident who secured his participation in the championship held in Las Vegas by winning a seat in a $500 online tournament. Out of the 343 entries, 68 players, including Felson, qualified online. 
Felson's impressive performance led him to secure fifth place in the championship, earning a remarkable prize of $51,587. Reflecting on his win, he expressed his astonishment during an interview with BetMGM, saying, "Everything here was great, and hopefully I'll be back." 
Ultimately, it was Joey Weissman from New York who emerged as the champion, claiming the top prize of $224,236. With the guaranteed prize pool raised to $2 million this year, the stage is set for another unforgettable edition of the BetMGM Poker Championship!