Several Borgata poker events are set to captivate New Jersey poker players in April 2023, with a variety of series on the schedule. Throughout the month, Borgata casino NJ will host numerous poker tournaments, culminating in the highly anticipated return of the Almighty Stack series in May.
Promising an impressive $1 million in guaranteed prize pools, the Almighty Stack is a partnership between Borgata and BetMGM NJ, slated to take place from May 7th to 13th. In the lead-up to this major event, the New Jersey casino will keep the excitement alive with several tournaments and promotions throughout April. These Borgata poker events also feature live poker satellites, providing you the opportunity to secure a spot in the prestigious Almighty Million.
After the unmatched success of the Borgata's Poker Tournament "The Return", we can't wait to see how everything will unfold this season. Keep reading to see the schedule of these events, how you can participate, and what other surprises are in store for you!
Best Borgata Poker Events Scheduled for April 2023
The Borgata poker events in April 2023 will feature more than 30 tournaments for you to enjoy! The gambling operator will host daily tournaments multiple times a week, offering one-day competitions with buy-ins ranging from $150 to $560. These tournaments are available at 11 A.M. and 6 P.M. daily, excluding Saturdays and Sundays.
Here's a quick overview of some standout Borgata poker events on the April schedule:
Monday: $1K NLH Super Survivor at 11 A.M., with a 15,000 starting stack
Tuesday: $150 NLH Big Stack Turbo Bounty at 6 P.M., featuring Double Green Chip NLH (RE)
Wednesday: $230 NLH Survivor Bounty at 6 P.M. with Double Green Chip NLH (RE)
Thursday: $225 NLH KO Turbo at 6 P.M., including Black Chip Bounty NLH (RE)
Friday: $20K Super Stack at 11 A.M., with Black Chip Bounty NLH (RE)
Please note that the schedule is subject to change! Make sure to check the Borgata poker tournament calendar to stay updated on the latest information.
Don't Miss the Survivor Borgata Poker Series and the $5,000 Mystery Easter Egg Hunt
The popular Borgata poker series, Survivor, deserves a special mention and we highly recommend checking it out. Taking place from April 12th to 21st, the series includes five distinct poker tournaments. Buy-ins range between $125 and $450. The prize pool is evenly distributed among the players who make the money, bringing the tournament to a close. Keep in mind that sign-ups will commence one hour before each event's beginning. All participants will be registered on a first-come, first-served basis, with no additional seating options available.
Adding to the excitement, Borgata NJ offers a $5,000 Mystery Easter Egg Hunt for cash poker players. Scheduled for April 14th and 15th, the event will feature a staggering $60,000 prize pool. Two $5,000 Grand Prizes will also be available each day. Every half-hour, the High Hand Winner gets the opportunity to select a Mystery Easter Egg, revealing various cash prizes. Moreover, the additional daily prizes are set between $3,000 and $250.
In case of a tie, where multiple players hold the same qualifying high hand within the same interval, the first player dealt the qualifying high hand will choose the Mystery Easter Egg. The prize will then be equally split among eligible players.
Win Big This April with the Borgata Bad Beat Jackpot
Among other Borgata poker events you can't miss this spring is the Bad Beat Jackpot. To qualify for a bad beat, you must hold a four-of-a-kind tens or better, using two cards from your hand. The losing hand receives 40% of the casino jackpot, while the winning hand secures 20%. The remaining 40% is distributed among other players dealt into the hand.
Other Major Borgata Poker Events – Almighty Million Stack Returns in May
Following the triumphant re-entry into high-stakes poker tournaments with the aptly-titled "The Return," which attracted 1,142 participants with $5,300 buy-ins, the NJ online casino maintains the excitement with the Almighty Million poker event in May. This tournament features an $800 buy-in and a guaranteed prize pool of $1 million. Four starting flights are scheduled, starting on Monday, May 7 through Wednesday, May 10. Day 2 commences on Thursday, May 11, with players starting off with 100,000 chips.
Lower Cost Online Qualifiers at BetMGM and Borgata NJ
Similar to January's Borgata poker tournament The Return, the NJ casino has partnered with BetMGM Poker to organize the Almighty Million and offer online qualifiers at more advantageous costs. Players from New Jersey, Michigan, and Pennsylvania who want to take advantage of one of the best Borgata poker events this year can secure their spots at a lower cost by competing for the $2,000 Almighty Million Packages.
The quest for the $2,000 satellite package on BetMGM and Borgata's poker sites will begin on April 23. This comprehensive package includes:
An entry into the Almighty Million
Hotel accommodation at Borgata Atlantic City
$500 in cash to cover food and travel costs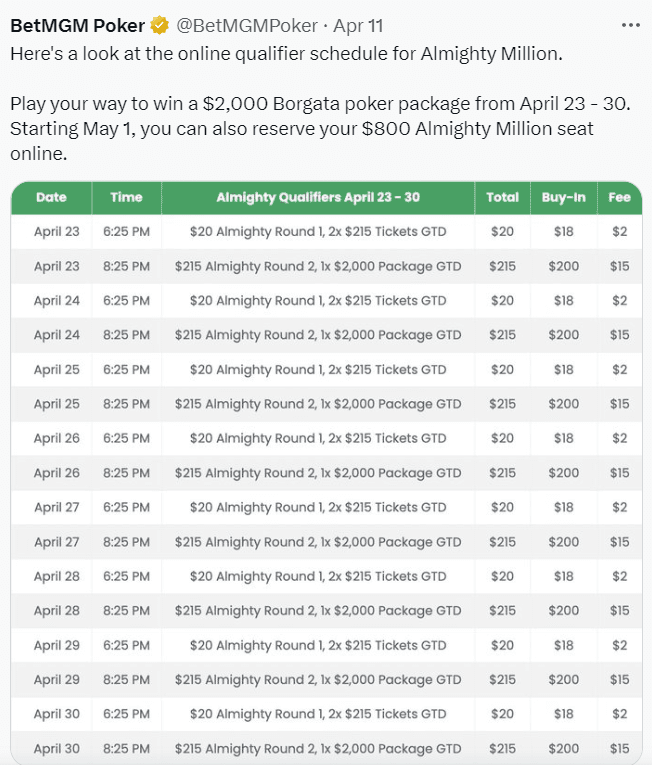 The champion of the $255 buy-in Ladies Championship Event on Saturday, March 11, will receive a $2,000 Almighty Million package courtesy of BetMGM. On-site qualifiers for the event are set to kick off on Monday, May 1, in Borgata's Poker Room. Details regarding online qualifiers will be announced on the BetMGM mobile app. Updates will also be shared via the Borgata Poker Twitter page. Luke Staudenmaier, Director of Poker, BetMGM, claimed the online qualifiers for these Borgata poker events came after a great response to a similar partnership during the January poker tournament, The Return:
"The success of online qualifiers and the fantastic response to "The Return" shows that players want more of these omnichannel events that connect these great brands. BetMGM is excited to continue to partner with Borgata Poker to give players another chance to play at the East Coast's premier poker destination."

Luke Staudenmaier, Director of Poker, BetMGM
What Else You Should Know
This tournament will unfold in one of the largest New Jersey poker rooms and one of the biggest in the United States. Online registration commences on Monday, May 1, exclusively via the BetMGM Poker app. Players can sign up online until 9 P.M. on the eve of each Day 1 flight. The deadline for online registration is set on Tuesday, May 9, at 9 P.M. On-site registration opens on Friday, May 5, at the Borgata Poker Cage, and unlimited re-entries are permitted. During Day 1 flights, players re-entering the competition will receive priority seating assignments and registration.
For additional details about Almighty Million and other Borgata poker events, visit theborgata.com. So, what's it going to be? Don't miss the opportunity to participate in these thrilling tournaments! Compete for the impressive prize pools available this spring in New Jersey!