Have you ever thought about why we gamble? Is the answer as obvious as saying that we love winning, or is it deeper than that? Gamblers enjoy "the gamble"—the burning desire to take risks, no matter the size of the stakes. Fortunately, we don't need to actually head out to a land-based casino to enjoy the same thrills. The most famous casino movies ever made captured the same feeling. The only difference is you're enjoying them from the comfort of your own home, not risking big money at a casino. Keep reading to learn more about the best casino movies you can stream online on Netflix.
What are the Best Casino Movies on Netflix?
Netflix has an impressive collection of casino-themed movies. The list includes vintage classics like Bugsy to more modern options like Casino Royale or Win It All. We've compiled a list of the best casino movies you can watch right now on Netflix. Additionally, we have included a few details about each, so you can choose which movie suits your viewing criteria best. However, you should be aware that some details may be too revealing and might be actual spoilers. So keep reading to delve into the gambling world of the best casino movies you can find on Netflix!
Casino Royale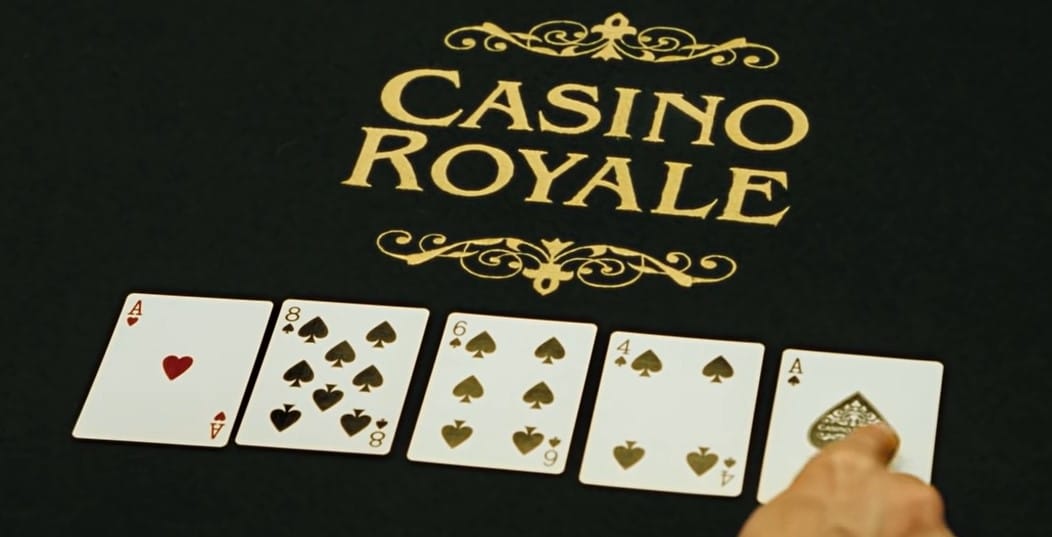 The Bond series is one of the greatest franchises of action-packed films. You can find everything from thrilling scenes to beautiful women, daring stunts, and supercars. All this plus the amazing poker scene at the end will make it one of the best casino movies for some viewers. The action happens in some of the most famous cities, including Prague, London, Venice & Bahamas, just as any fan would expect in a Bond piece. "Casino Royale" is the 2007 remake of its' 1967 predecessor starring Daniel Craig, Eva Green, and Mads Mikkelsen.
The British secret agent James Bond travels to Montenegro to participate in a high-stakes poker event. A very dangerous individual who works as a banker for terrorists by the name of Le Chiffre is attending the event. He aims to try and recover a considerable sum of his clients' money he lost in a failed plot. James Bond must not only take part in the event but also make sure Chiffre doesn't win. The game played is Texas Hold 'em Poker. As you probably know, this is a game where you should always have your Texas Hold'em strategies in check. We must note that the gambling scenes are filled with suspense and are sure to keep you on your feet. It is undoubtedly one of the best casino movies of all time, which mirrors the reality of New Jersey poker rooms to some extent.
Fear and Loathing in Las Vegas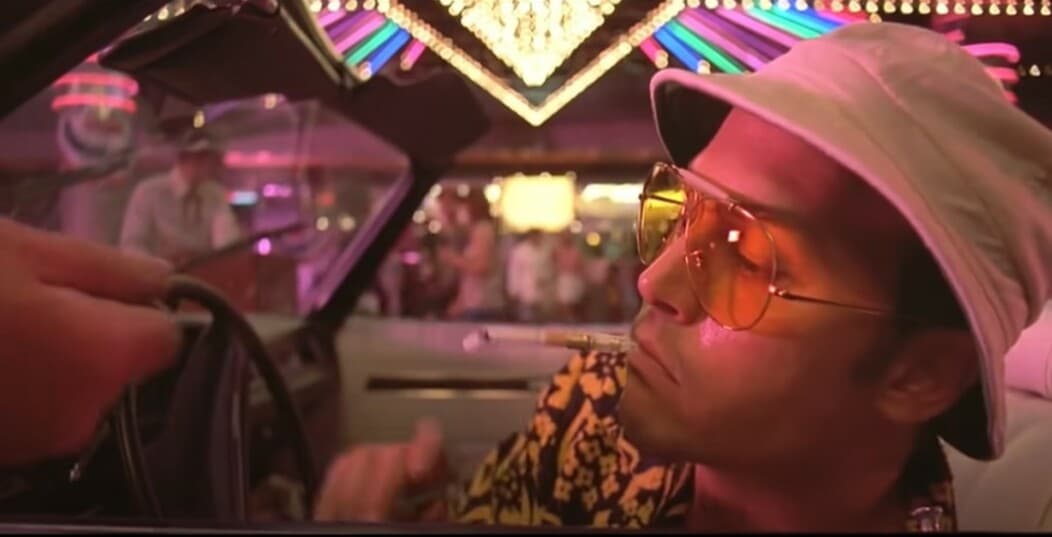 "Fear and Loathing in Las Vegas" is one of the best casino movies. And that is mostly because it's a cult classic among film fans. In 1971, journalist Raoul Duke (Johnny Depp) is speeding towards Las Vegas with a trunkful of drugs and his Samoan Attorney, Dr. Gonzo, to report on a motorcycle race happening the next day. What should be an easy journalistic assignment, turns into a feverish psychedelic odyssey. Terry Gilliam, the director of the movie, shows no mercy in bringing Hunter S. Thompson's view of the American way of life to the screen, creating a film both hilarious and barbaric. If the movies Hangover and Wolf of Wall Street got you excited, Fear and Loathing in Las Vegas might be one of the best casino movies you can find on Netflix for a movie night with friends.
Rounders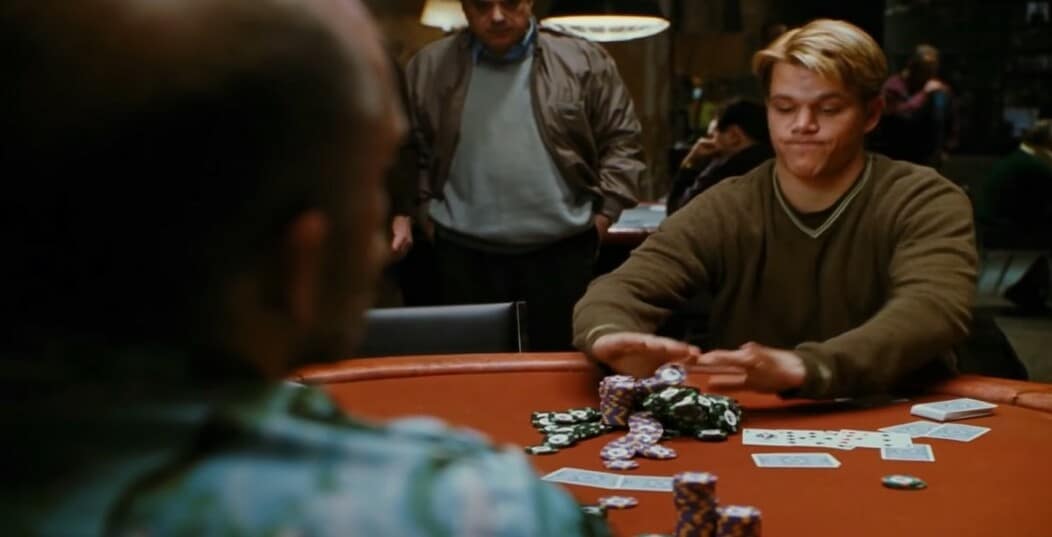 Online poker connoisseurs will consider "Rounders" to be one of the best casino movies on Netflix because of its accurate representation of the game. Among the only poker movies on Netflix, the film captures a young law student and poker genius Mike McDermott. Starring Matt Damon, he struggles between school, a relationship, and helping his long-time friend Worm (Edward Norton) pay off loan sharks. After initially losing $30,000 in savings at an illegal underground poker bar, he stops gambling and starts focusing on law school.
However, everything turns around when his friend Worm comes back from prison. He needs a significant sum of cash to pay off some shady people. So, he inevitably jumps back into the gambling world yet again. The movie buys into the glamour of poker, romanticizing a game that essentially consists of people living off brief bursts of adrenaline generated by taking big risks. We think this movie is definitely worth watching. And that is solely because of Matt Damon's amazing performance, as well as for witnessing some of the best poker strategies. After all, it might be one of the best casino movies for a cozy night in.
Ocean's Eleven
Eleven expert criminals are rounded up by leader Danny Ocean (George Clooney) to execute a heist against a bank with $150 million in the vault. All the money comes from three major Las Vegas casinos (MGM Grand, Bellagio, and Mirage). These casinos belong to Terry Benedict (Garcia), who is now in a relationship with Danny's ex-wife, Tess. This makes the operation even more personal. Ocean's Eleven is an action-packed movie and true to its predecessor. Also, it contains some superb acting performances from the amazing all-star Hollywood cast. Critics state that Soderbergh, the film's director, did a top-notch job on this movie, and may be one of his best so far. So, if you're into dynamic action movies this might be among the best casino movies for you.
The Cooler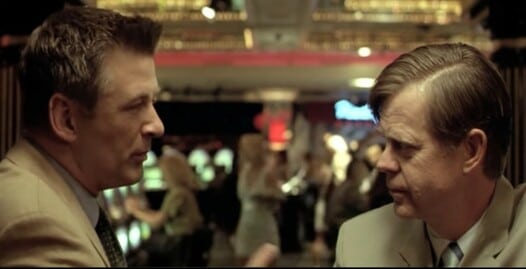 The film "The Cooler" follows a casino cooler named Bernie Lootz whose mere presence at the gambling tables of the Shangri-La casino in Las Vegas usually results in a streak of bad luck for other players. He's used by the last of the old-time mob who run casinos to kill high rollers' action. However, after Bernie falls in love with a cocktail waitress named Natalie, his lady luck reverses the situation. Unfortunately, things take a nasty turn when the casino director tries to break up the romance.
Many consider the film as being one of Alec Baldwin's best performances so it's worth watching just for that. He plays Bernie's boss, Shelly, who takes part in his own story outside of the main narrative. Shelly isn't simply an element in Bernie's life but is a free-standing character with a dilemma of his own. To conclude, this might be one of the best casino movies on Netflix for you if you want to watch a light-hearted romantic dramedy with a compelling screenplay and great acting.
Bugsy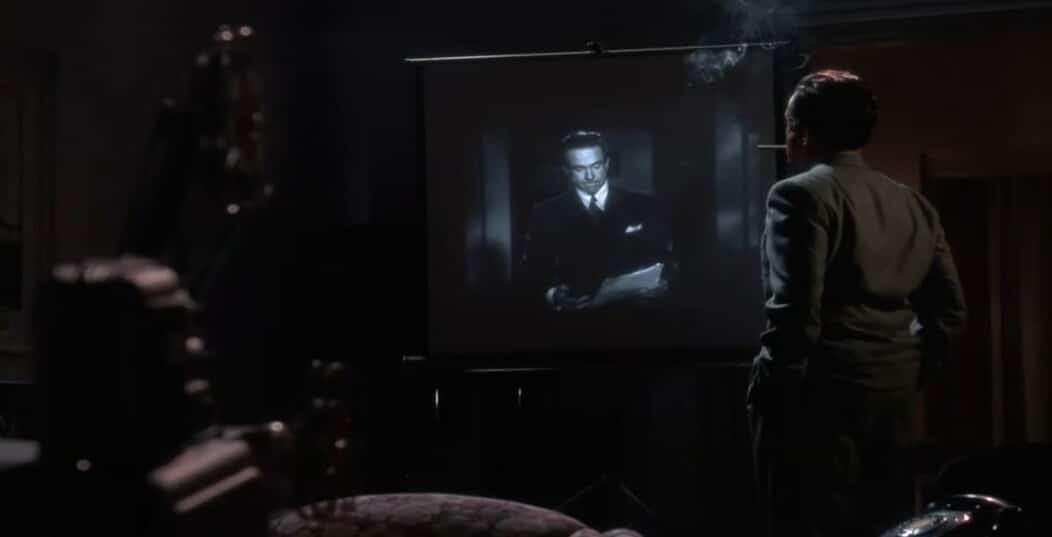 For the crime drama lovers out there, "Bugsy" might be one of the best casino movies of all time. The film tells the story of gangster Bugsy Siegel. He is the Father of Las Vegas, who ventured to Nevada in the early 1940s and fell in love with actress Virginia Hill. The movie is more of a romance, than a biography. Instead, it offers a cinematic homage to the infamous gangster legend, with Warren Beatty portraying Bugsy in an amazing performance. If you want to learn more about who laid the bricks of Las Vegas, Bugsy might be one of the best casino movies for you.
As he stood in a shady casino in Las Vegas, Nevada, which was then one of the only states that legalized gambling, he had a vision of a town that was filled with big, classy casinos. Back then, Las Vegas was an obscure backwater. So he built a casino named Flamingo, its name inspired by Virginia Hill's legs. He used the mob's money to build it, which ultimately gets him killed before he could see the modern, flashy city bloom from his dream.
21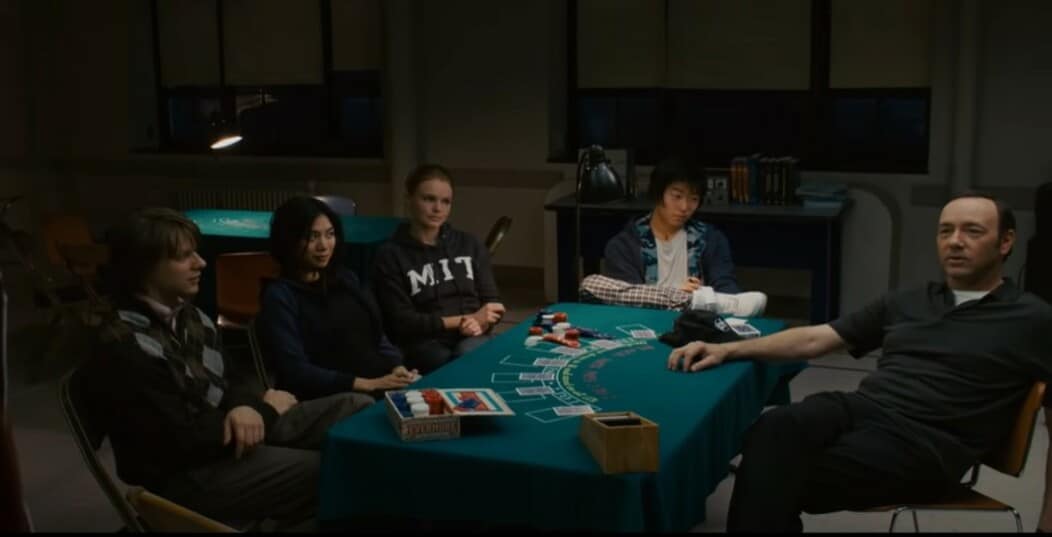 Ben Campbell is an exceptional senior-year student at MIT who just got the news that he was accepted into Harvard Medical School, something he's been dreaming about his whole life. Unfortunately, it becomes apparent that Ben Campbell needs more funds to pay his tuition fees and he hits a dead end. His mathematics professor, Mickey Rosa, takes notice of his quick mind and ability to deal with the issue at hand and decides to invite him into his small but secret society of students.
This group has a system of winning at blackjack through counting cards. They play at casinos in Las Vegas with a system of codes, rules, and alternate identities. Each person involved has a specific role. In a short time, Ben becomes one of the group's most prolific gamblers, but his initial goal of raising $300,000 is quickly forgotten once he gets a taste of the big life. "21" is one of the best casino movies for you if you're interested in films that approach the mathematical aspect of gambling, especially the one about online blackjack. So, you might have realized by now that 21 is not an allusion to the legal gambling age in the US.
Win It All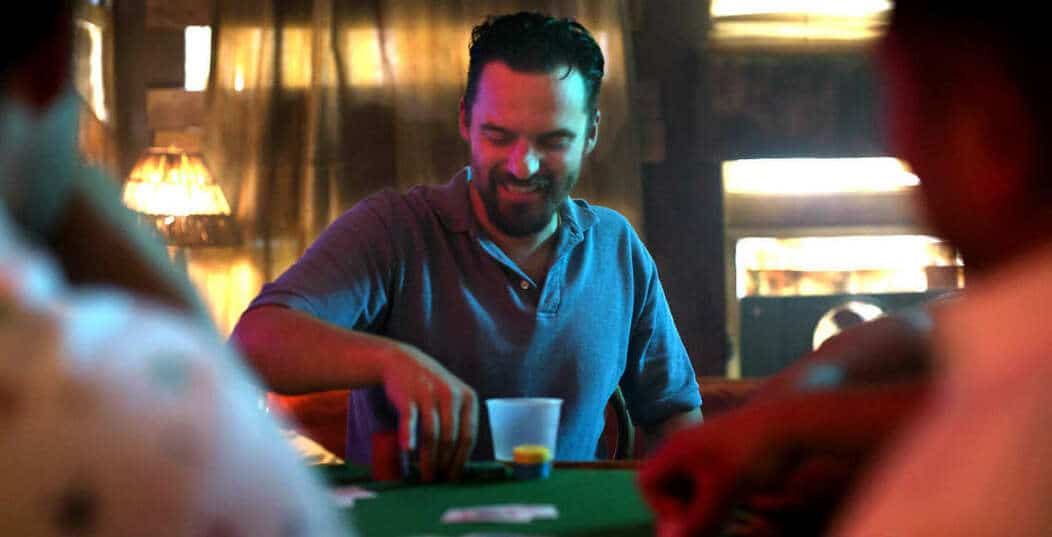 Among the best casino movies you can watch on Netflix, "Win It All" is a light-hearted story about gambling addiction. Although it has a dark theme, the screenplay turns it into a delightful comedy. Eddie Garrett is a gambling addict working as a parking attendant. One morning, Eddie finds Michael, a local thug, sitting in his kitchen.
Michael asks Eddie to store a mysterious duffel bag, without opening it or asking questions, while he is in prison for six months, promising to pay Eddie $10,000. Eddie agrees, but a few days later gives in to temptation and opens the bag, finding several odd objects and a large sum of cash. Although his addiction recovery sponsor, Gene, advises Eddie not to touch the money, Eddie eventually takes $500 from the bag and gambles it. Unfortunately, this is when things take a downward turn.
Croupier
One of the best casino movies from the perspective of a professional dealer, "Croupier" unveils the darker side of the live casino world. Mike Haddon, the film's director creates a story told through the eyes of an aspiring writer who becomes a croupier at a casino. Once he starts his job, he quickly realizes it will make a great story for his next novel. As a welcomed change from the opulent casino movies we're used to seeing on big screens, "Croupier" doesn't focus on the luxury casinos of St. Tropez. Rather, it shows us a peak of the world of gambling in the small card rooms of London, where gamblers play for more than just their paycheck. If you're interested in atmosphere and character development, "Croupier" might be one of the best casino movies for you.
Bachelor Party Vegas
"Bachelor Party Vegas" is a great option if you want to watch casino movies on Netflix that are more on the comedy side. The film debuted in 2006, initially under the name Vegas Baby. Z-Bob, Ash, Eli, and Johnny are a group of friends on their way to Vegas. The aim is to celebrate their soon-to-be-married best friend Nathan's last weekend as a bachelor. Strippers, gambling, alcohol, and debauchery are a few things the group has on its agenda. That is until they find out that Mr. Kidd, their bachelor party planner, is a bank robber planning to heist the casino. Which, as you guessed, ends up turning their night into a living hell.
When running away from the police, the casino security, and murderous Hell's Angels, the five friends are falsely accused of robbing a casino, stalked by a porn star's boyfriend, mugged by a female Elvis impersonator, arrested, thrown in jail, and survive many other misadventures, until finally, it seems that their deaths are in the cards. It's not among the best casino movies of all time, but it will make you laugh your head off.
The Gambler
"The Gambler," released in 1974, stars James Caan as Axel Freed, an English professor with an addictive gambling problem. Freed is desperate to escape his rapidly growing $44,000 debt and his disapproving wealthy family, so he heads for Las Vegas in hopes that fortune awaits. Upon its debut, this film received widespread critical acclaim for its accurate depiction of compulsive gambling's devastating repercussions. It remains an iconic work due to its captivating depiction of gambling, even though its 2014 remake starring Mark Wahlberg failed to live up to expectations.
Shadow and Bone Series
If you have even the slightest interest in fantasy series, we might have just the right thing for you. It is actually a series that is based on the fusion of two high-fantasy novels written by Leigh Bardugo. We're specifically talking about the Shadow and Bone trilogy, as well as the Six of Crows duology. This resulted in the "Shadow and Bone" series which is currently just about to release season 2. So, if you want to explore gambling from a different perspective, check it out and see where it will drive Shadow and Bone Jesper and his crew!
Is the Movie Casino 1995 on Netflix?
The movie "Casino" was released in 1995. It is one of the most famous casino movies of all time and many regard it as one of the best casino movies. It tells the story of a Las Vegas casino boss named Ace Rothstein, played by Robert de Niro. Even though Ace doesn't have a gambling license, he is in charge of three of the biggest casinos in Vegas. Unfortunately, it is not available on Netflix US anymore. However, you can watch it using a VPN. We've made a list of the countries where it's available to view on Netflix so you don't have to!
Argentina
New Zealand
Canada
Colombia
Hong Kong
Mexico
Netherlands
Go to your VPN settings and set your viewing area to one of the countries above. You can follow the same steps to watch some of the other casino movies you can't find on Netflix US anymore. Mississippi Grind, Uncut Gems, and The Gambler are some of the best casino movies of all time that are worth watching.
Summary
Now that we've checked all the best casino movies you can find on Netflix and talked a bit about each, we hope you have a more accurate picture of what Netflix offers in terms of casino movies. If you've ever gone to a land-based casino, you probably already know the entertaining and luxurious lifestyle the people who frequent there live.
However, not everyone gets the chance to gamble in Monaco or St. Tropez, to enjoy the high life, sports cars, and other perks the super-rich get to enjoy almost every day. The bright side is you'll get a similar experience from watching the films. We hope this guide about the best casino movies on Netflix will make your nights more entertaining. You can enjoy heaps more gambling movies that are not on Netflix and are worth watching.
FAQ
Does Netflix have the movie Casino?
Unfortunately, "Casino" is no longer available on Netflix if you're viewing from the US. However, you can watch it using a VPN. To view one of the best casino movies of all time, there are a few steps you can follow. First, go to your VPN settings and set your viewing area to one of the countries where the movie is available on Netflix.
What are the best casino movies on Netflix?
Netflix has an impressive collection of casino-themed movies, from modern ones like Ocean's 11 to classic options like Casino Royale or Win It All.
Is Uncut Gems available on Netflix?
Unfortunately, if you want to watch Uncut Gems on Netflix US, you're out of luck because it's no longer available. However, you can try using a VPN to access Netflix from other countries. To watch Uncut Gems on Netflix using a VPN, first, go to your VPN settings and set your viewing country to one where the movie is available.
How accurate is the poker in Casino Royale?
According to professional poker players, the answers are mixed. The poker scene in the movie is very well done regarding how the game is played. However, all players, one after the other, revealed excellent hands that would almost always win the game in a real poker game. This is a bit unrealistic. The second aspect of the movie which makes professionals cringe is the very obvious physical ticks or "tells" which are just blatantly unbelievable.
Is the movie Casino 1995 a true story?
The film actually has roots in a true story. The plot takes inspiration from the life of Frank "Lefty" Rosenthal, who managed Fremont, Hacienda, and Stardust casinos in Las Vegas for the Chicago mob back in the 1970s and 80s. His wife, starring Sharon Stone, resembles Las Vegas showgirl Geri McGee (Rosenthal's wife).